Soup is pretty much your one-pot secret weapon when it comes to weight loss—especially if you've just about had it with the whole salad scene.
First of all, soup that's loaded with hearty veggies will give you the high-fiber punch needed to boost satiety and curb cravings.
Second, low-calorie bases such as water, veggie broth, and chicken stock make soups one of the least calorically dense meals you can eat, explains Kristen F. Gradney, R.D.N., director of nutrition and metabolic services at Our Lady of the Lake Regional Medical Center and spokesperson for the Academy of Nutrition and Dietetics.

Best Fat Burning Soup Diet for weight loss, you can get all this delicious soups recipes below here, To get the full recipe, go to, fatburningsouprecipes.com
While there are plenty of weight-loss soups available by the can, mixing up your own ensures you're getting as much of the good stuff (think: veggies, lean meats, and nutritionally-dense grains) as possible while cutting down on sodium, chemicals and any less-than-healthy ingredients. Plus, soup is crazy-easy to prepare: Just combine, cook, and eat.
1. WHITE BEAN PARMESAN SPINACH SOUP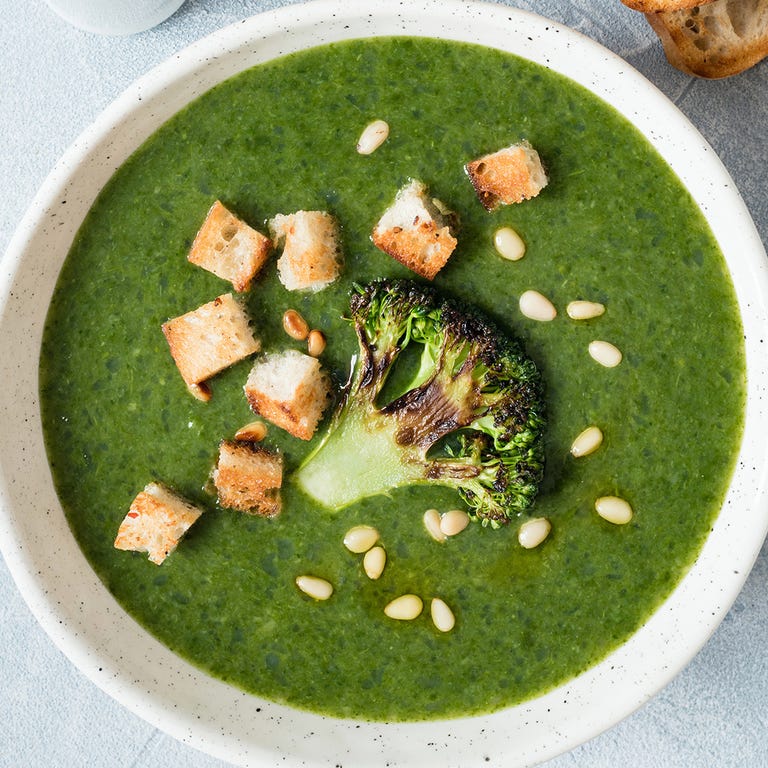 This white bean soup offers two-plus servings of hunger-satisfying veggies per serving, Gradney says. And with only 87 calories, it makes a perfect between-meal snack. The addition of parmesan cheese rounds out the soup's savory flavor.
Per 1-cup serving: 280 calories, 4 g fat (2 g saturated), 38 g carbs, 2 g sugar, 1007 mg sodium, 8 g fiber, 19 g protein.
2. CHICKEN AND SAUSAGE GUMBO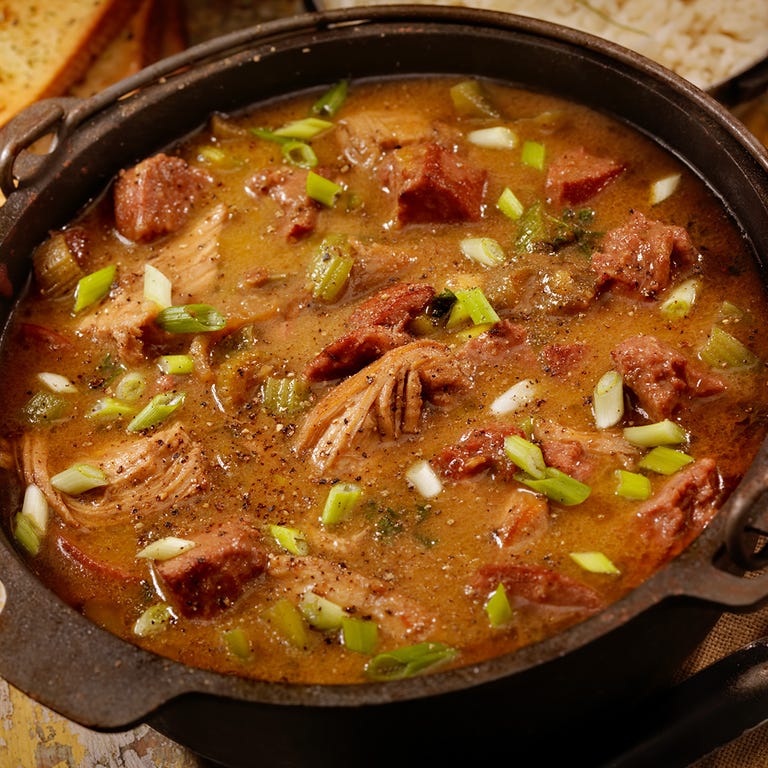 When you crave a Creole classic, go for this healthier version. It uses nutritionally-dense okra to thicken the soup instead of roux (a mixture of flour and fat). Expect ultimate comfort-food flavors with a hearty serving of veggies and lean protein from chicken and reduced-fat sausage, Gradney says.
Per 1-cup serving: 160 calories, 2 g fat (1 g saturated), 12 g carbs, 4 g sugar, 550 mg sodium, 2 g fiber, 22 g protein.
3. SMOKY ACORN SQUASH AND LENTIL BISQUE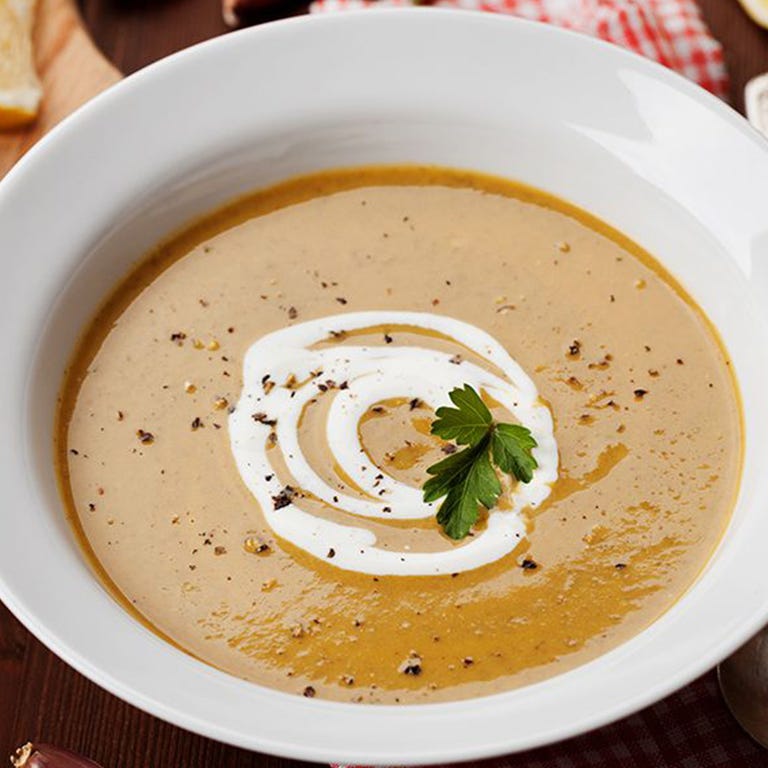 Usually, words like "bisque" signal that a soup is loaded with high-fat cream. Not the case with this tasty plant-based soup. Acorn squash takes the place of butter and cream to give you that guilty texture minus the empty calories. Well-balanced with five grams of fat, 11 grams of protein, and a whopping 14 grams of fiber per serving, it will keep you feeling full and fueled for hours, Gradney says.
Per 1 1/3-cup serving: 239 calories, 5 g fat (1 g saturated), 41 g carbs, 7 g sugar, 522 mg sodium, 14 g fiber, 11 g protein.
4. RED LENTIL SOUP WITH TOASTED CUMIN AND CORIANDER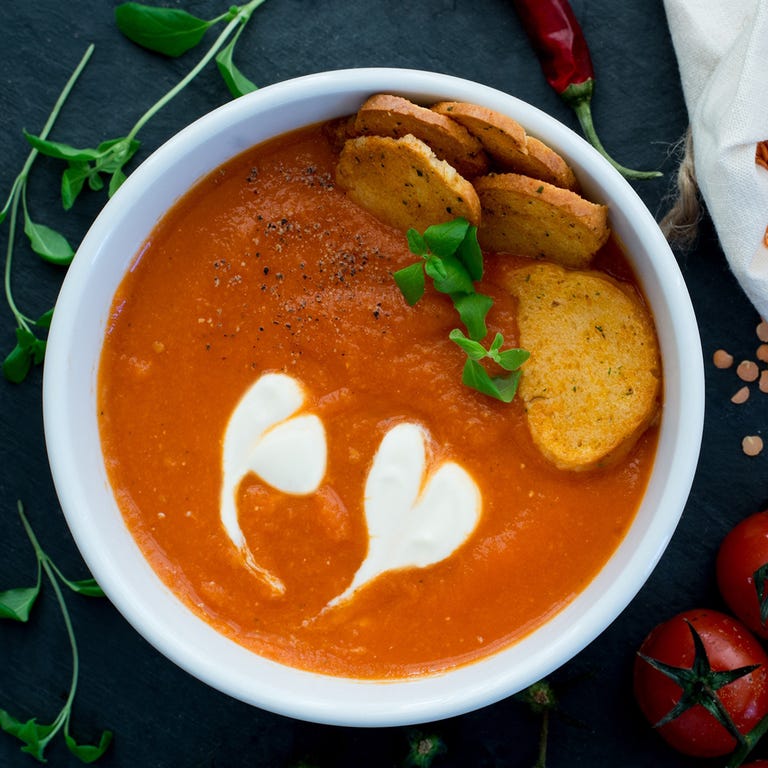 This flavor-packed soup is the perfect blend of sweetness and spice, thanks to the rich toasted spices and the coconut milk. The best part? It will stave off hunger long after your plate is clean. "Lentils are full of protein and fiber, which makes this a really filling choice," says Chelsey Amer, R.D.N., who runs C It Nutritionally.
Per 1/2-cup serving: 282 calories, 13 g fat (7 g saturated), 18 g carbs, 1 g sugar, 71 mg sodium, 24 g protein.
5. ROASTED TOMATO BASIL SOUP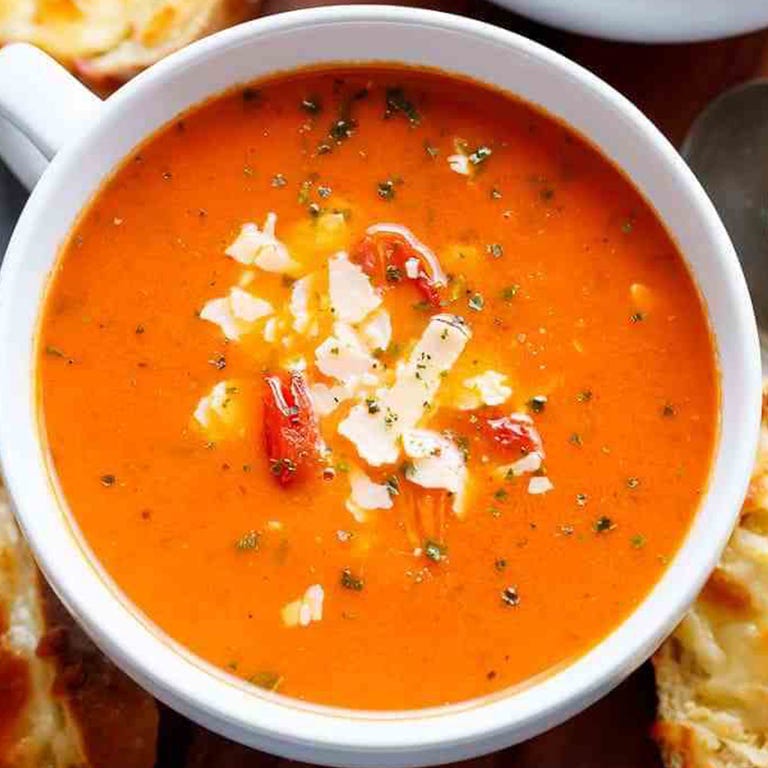 If you're hankering for a creamy soup this season, but you're looking to stay away from heavy cream, look no further. This recipe makes a delicious snack or starter, and its five grams of fiber per serving will help you bust cravings later, says Amer.
Per 1-cup serving: 174 calories, 7 g fat (1 g saturated), 24 g carbs, 12 g sugar, 711 mg sodium, 5 g fiber, 4 g protein.
6. EASY BLACK BEAN SOUP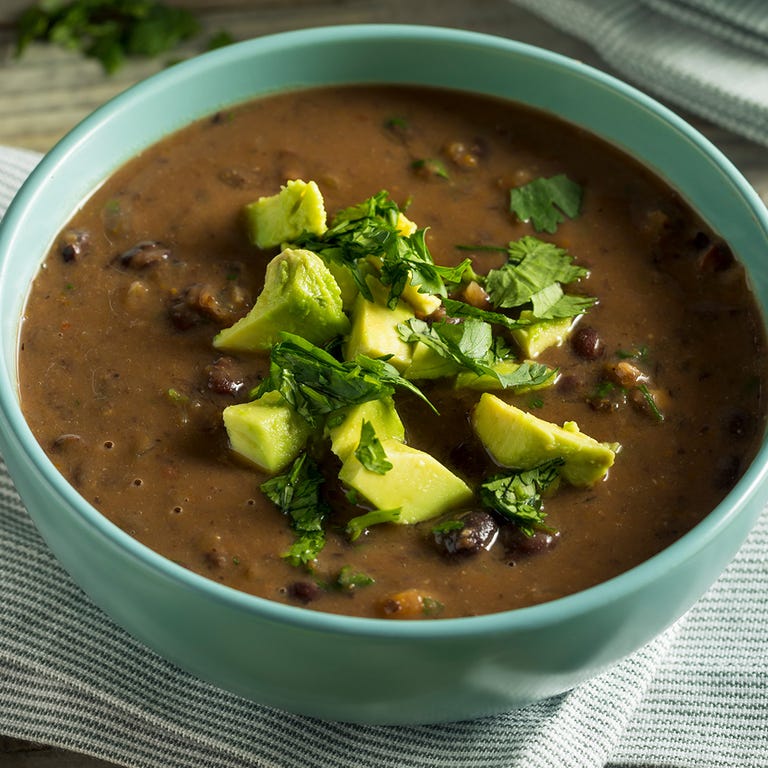 Meatless-Monday approved and vegan-friendly, this black bean soup can be added to anyone's weight-loss arsenal. With protein-packed black beans and tons of fiber from veggies, Amer says this soup is a win-win.
Per 1-cup serving: 212 calories, 2 g fat (0 g saturated), 34 g carbs, 3 g sugar, 576 mg sodium, 14 g fiber, 13 g protein.
7. CHICKEN TORTILLA-LESS SOUP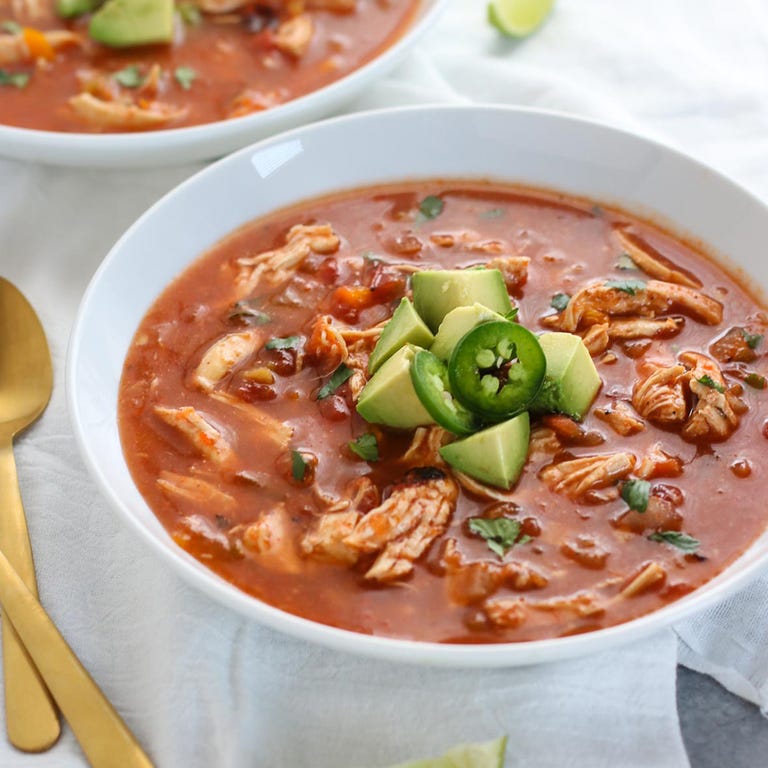 Take a break from to your usual salad and bring this deliciously healthy dish to work. It's not your usual chicken soup—it packs a punch from jalapeños, cilantro, and lime. Bonus: The recipe is Whole30-approved.
Per serving: 225 calories, 6 g fat, 9 g carbs, 5 g sugar, 582 mg sodium, 1 g fiber, 31 g protein.
8. THAI LEMONGRASS SOUP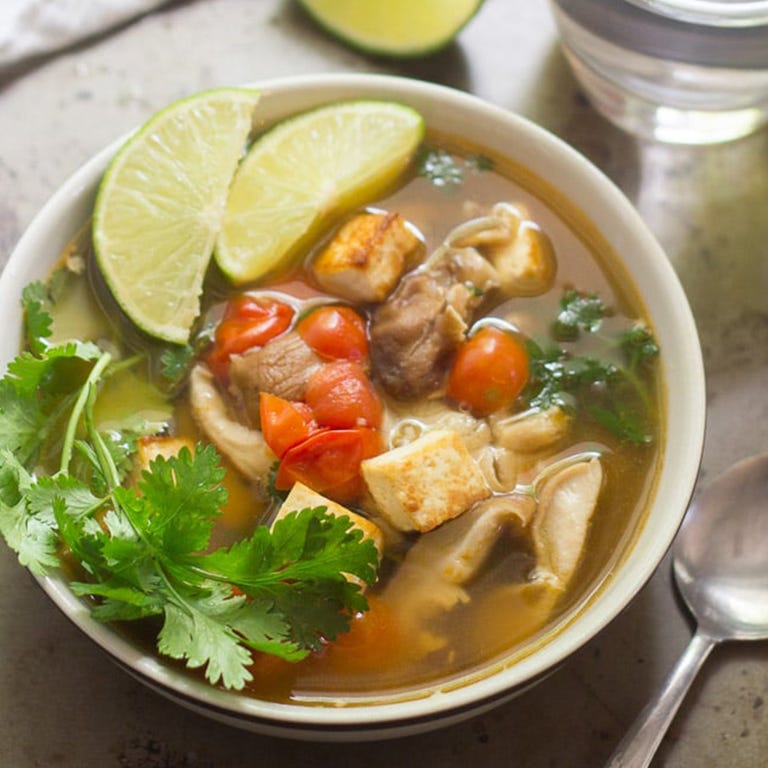 This soup has a hearty serving of protein and is only 136 calories per serving. It's low-cal and vegetarian, too. Bookmark this for your next sick day—its soothing flavors from ginger, lemongrass, cilantro, and lime are just what the doctor ordered.
Per 1-cup serving: 136 calories, 7.9 g fat (0.9 g saturated), 7.2 g carbs, 2.3 g sugar, 779 mg sodium, 0.9 g fiber, 10.4 g protein.
9. SPINACH EGG DROP SOUP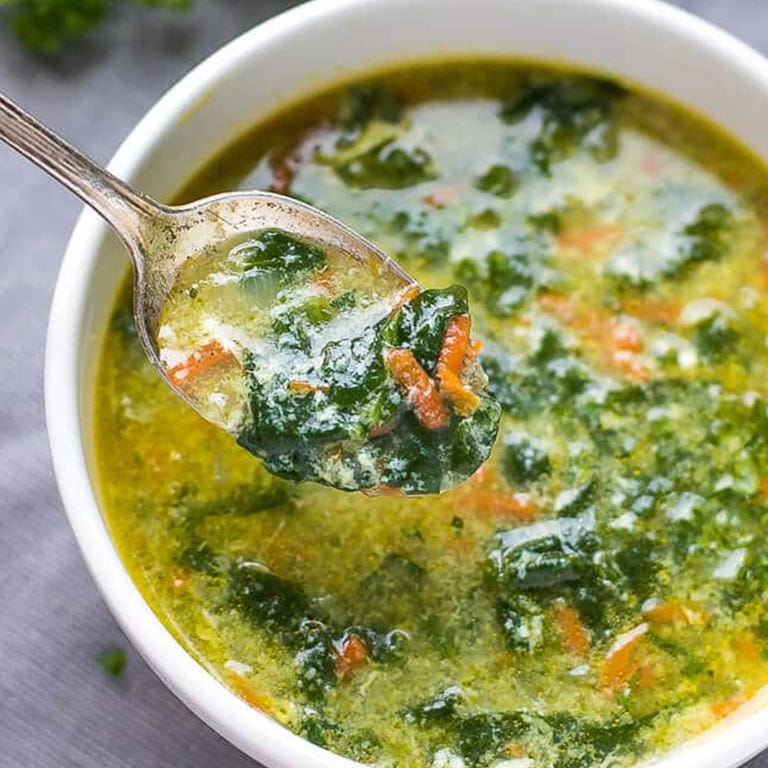 This egg drop soup is light, easy to make, and low in carbs (just four grams!). The spinach, along with the protein from the eggs, makes this dish a great appetizer. "A broth-based soup is a great way to start your meal because it adds some liquid and will help fill you up," Amer says.
Per 1-cup serving: 111 calories, 9 g fat (1 g saturated), 4 g carbs, 1 g sugar, 110 mg sodium, 1 g fiber, 3 g protein.
10. WEIGHT-LOSS VEGETABLE SOUP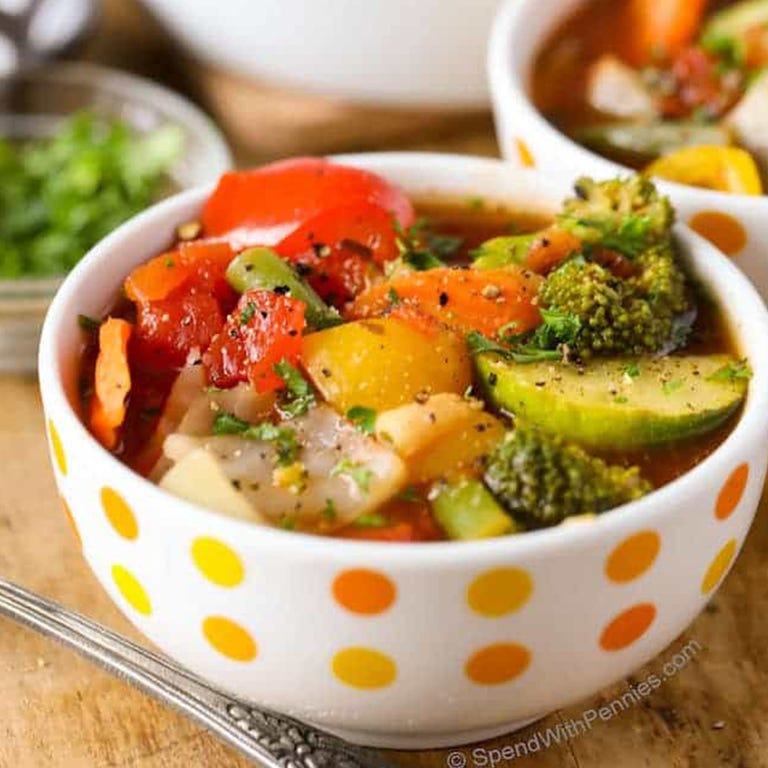 Try this vegetable soup as a starter, or throw in some chicken or turkey to make it main-meal material. "This is a great way to get more veggies into your diet," says Amer. "This soup is really like the equivalent of a salad, and it's a great way to do it if you prefer cooked vegetables." You'll get tons of potassium—almost 500 milligrams—which helps reduce bloating.
Per serving: 41 calories, 7 g carbs, 4 g sugar, 265 mg sodium, 2 g fiber, 3 g protein.
11. CROCK POT TACO SOUP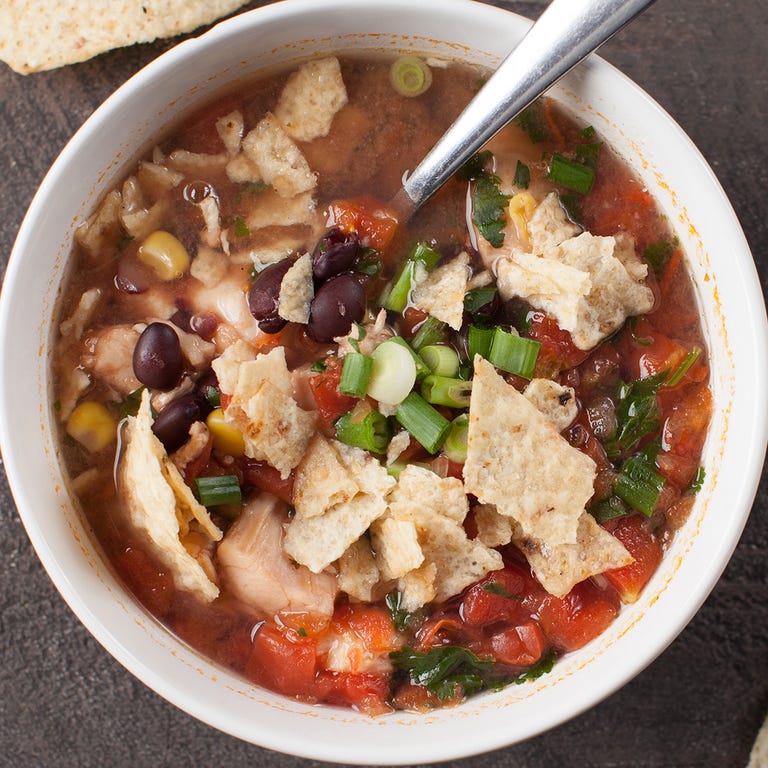 You don't have to skip Taco Tuesday to achieve your weight-loss goals—try this low-carb taco soup instead. With two types of beans, this dish has a whopping 17 grams of protein and almost eight grams of fiber. Throw your ingredients into the slow cooker in the morning, and this delish dish will be waiting for you after work.
Per 1-cup serving: 215 calories, 5.2 g fat (1.2 g saturated), 27.5 g carbs, 7,7 g sugar, 881 mg sodium, 7.5 g fiber, 16.9 g protein.